Today is exactly 8 weeks since i had my surgery, and after tomorrow i will have 8 more weeks of Physical Therapy. Since i'm feeling a little like i'm in Recovery-Purgatory and therapy seems to be moving at a snail's pace, I figured i'd take a look back to see how far i've come...i already feel better.

Here's what Used To Be:
These were my goals in the days immediately
following surgery (see "Pain Control" and "Ambulate" on the board*). While the morphine really took care of the pain effectively (see pic below) , the ambulating proved to be more challenging. Now I am abulating all over the place and my goals are set much higher; such as "Get Rid of this Dang Brace". ( * notice also the lovely decorations on the formerly stark hospital board...these were graciously applied by my friend and summer hostess.)


Used to be, it was a huge endeavor to go to the bathroom. I recall really missing my catheter when they first took it out, which would've seemed absurd to me before surgery. Once they took that out, i had to get up with a walker and laborously move merely feet to the bathroom, dragging all this stuff along.

USED TO BE that i was on so much MORPHINE that taking these pictures seemed like a good idea--haha.

Used to be that i could only take a sponge bath, beginning with the aid of a Nurse's Aide. I didn't get to take a real shower until a week after my surgery (note armpit). Man, that first shower felt like HEAVEN!
It
used to be
that my bedside table looked like the geriatric section of the pharmacy, modeled here by my lovely sister
/nurse/counselor/coach.
Used to be that it was extremely uncomfortable to remove my bandages. In fact,during the first several weeks, i could not do it myself. I had to have the assistance of some mighty special peops in my family!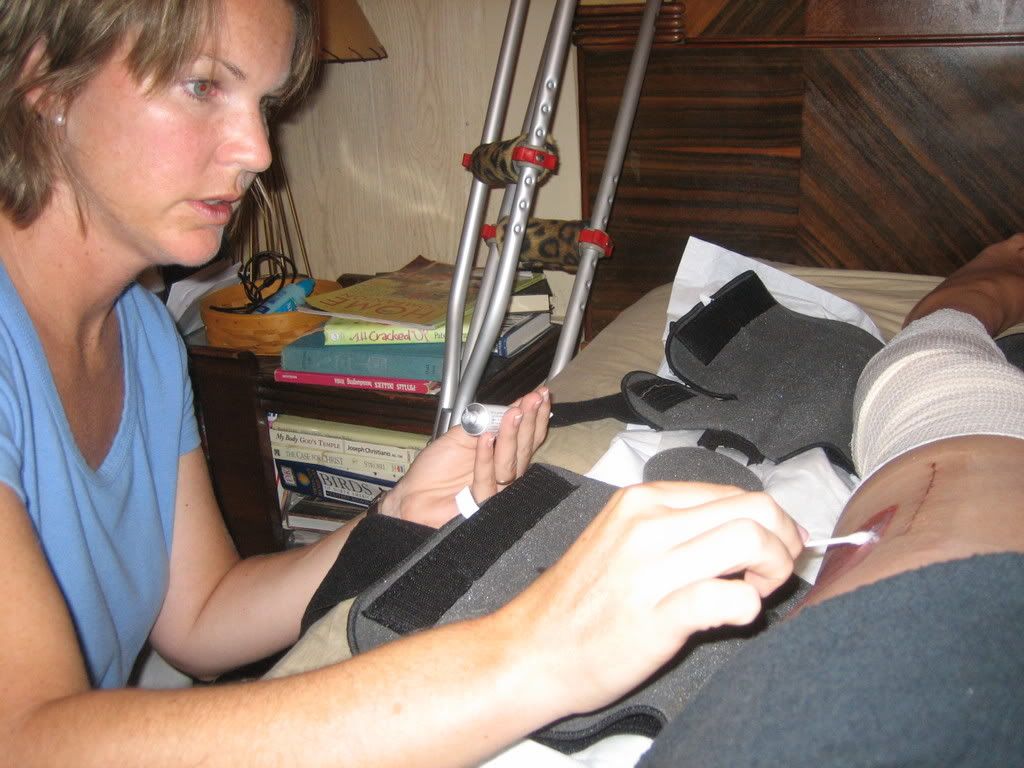 Note: my
lucky
mom was the first nurse on the scene: she isn't pictured here because she was the photographer!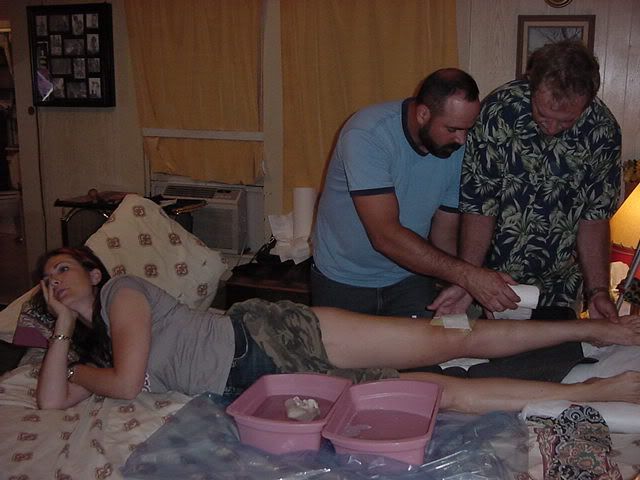 It
used to be
that we had to do this bandage change twice a day.
I seriously couldn't look at my knee for several weeks post-surgery. It Used to be that i could only catch a glimpse of the surgery site by looking at pictures. Now i am cleaning it myself...and closely inspecting, touching and examining everyday.